Our year has been stacked with mystery and intrigue, betrayal and revenge, bitterness and redemption – and some simply stunning plot twists. We've reviewed and read almost 200 crime / thrillers, from literary fiction by established authors to debut books by indie authors.
Only a very select few, less than 10%, achieve a full-on five-star MMM rating. Here, then, is our 2018 Top Ten: ten ripping reads which we rated the full five stars (9/10 or better) and which came close to delivering the perfect payoff. For your consideration, these brilliant books range from Japanese noir to contemporary American thrillers, Scandi crime to the Australian outback; Icelandic mystery to international espionage. Settle down with any of them and you'll be starting 2019 in fine style…
Paris In The Dark by Robert Olen Butler
It's 1916. The guns of the Great War never stop firing; the terrible stalemate of trench warfare is grinding down the French. The maimed and wounded are commonplace in the capital. Bombs fall on city streets. Paris is long way from the front lines, yet in every sense it is a city under bitter siege.
Few historical thrillers are as persuasive, powerful and flat-out pleasurable as this one. It's authentic and absorbing, crafted by a wordsmith so skilled that he delivers complete characters in a single sentence; reveals truth and it consequences in dialogue left unsaid. This is accomplished writing which doesn't stoop to pulp stunts – it simply drags you into the reality of the story with its confident quality.
Find it at Amazon
Return to Hiroshima by Bob Van Laerhoven

A complex and compelling novel of criminal intrigue which contrives to be simultaneously immense and yet deeply intimate. It's set in the mid-1990s during Japan's economic depression and the legacy of nuclear holocaust. Inspector Takeda is drawn into a bizarre investigation involving a demi-god Yakuza crime lord, an ultra-nationalist death cult, and his own horribly troubled personal history.
The plot and characters don't conform to any easily predictable path. They're are as vibrant and transient as cherry blossom, but soak the sidewalk with an infinitely more ominous shade of scarlet. Hiroshima presents bleak and bewildering insights into Japanese society, and into the wider world of the emotionally fragile and the terminally maltreated.
Find it at Amazon
Desperation Road by Michael Farris Smith
Frequently compared to Cormac McCarthy and Daniel Woodrell, Farris Smith bares the soul of a small town in the deep south with a ruthless, almost elegant efficiency. He takes two troubled lives from society's struggling class and breathes new life into the age-old tale of a troubled man seeking quiet salvation.
Russell Gaines served his time for manslaughter and in theory his debt is paid. In practice, his victim's surviving relatives come gunning for him. Their stories become intertwined with that of desperate young woman, forced into criminal acts of violence which leave indelible scars as she attempts to protect her child. Mississippi burns, in poetic prose that's constructed so tightly it almost thrums with tension.
Find it at Amazon
Blood In The Snow by Franco Marks

The first English translation from a European author, who's created a central character every bit as idiosyncratic as Adamsberg, Sejer or Montalbano. Known as the White Wolf, Marzio Santoni has a unique sense of smell which forms an essential part of his investigative method. The author's writing vividly and beautifully brings the ski slopes, icy torrents and menacing massifs to life. Santoni's connection to the wild is powerfully presented, as are his conflicted emotions when it comes to human relationships.
This opening episode – in which a group of holidaying young women die in an Alpine ski chalet under most mysterious circumstances – left us eagerly awaiting the White Wolf's next investigation.
Find it at Amazon
Cold Breath by Quentin Bates
An immensely readable Icelandic murder mystery which takes Officer Gunnhildur away from the usual Scandi noir scenario. Cold Breath is stylishly constructed from multiple viewpoints and blends the best aspects of a page-turning, high-stakes, global conspiracy thriller with the down-to-earth, painstaking procedures of a realistic police investigation.
Author Quentin Bates imbues his bad guys with sufficient charisma that you can't help enjoying the time spent in their company, although the central character this time around so morally ambiguous that your skin crawls. Meanwhile, the solid Officer Gunna is a robustly constructed character with a complex personal life, and Bates' Reykjavik is completely convincing. The best book yet in a splendid series.
Find it at Amazon
Newcomer by Keigo Higashino

An elegant and accomplished whodunit, intricately plotted and almost perfectly presented. Kaga's investigation into a cold-hearted killing explores the sidestreets of Tokyo's historic quarter, uncovering the quiet secrets of the everyday folk who run its tourist boutiques, sandwich bars and artisan workshops. Examining the lives of witnesses, bystanders and family in self-contained chapters, Kaga reveals family disputes, minor crimes and intimate misdemeanours while homing in on the callous culprit.
Newcomer offers an intellectual and emotional puzzle; a parable from the modern world which harks back to the conventions of golden age crime fiction. It's also a fascinating glimpse into another society; a world which hasn't been entirely overwhelmed by western conventions.
Find it at Amazon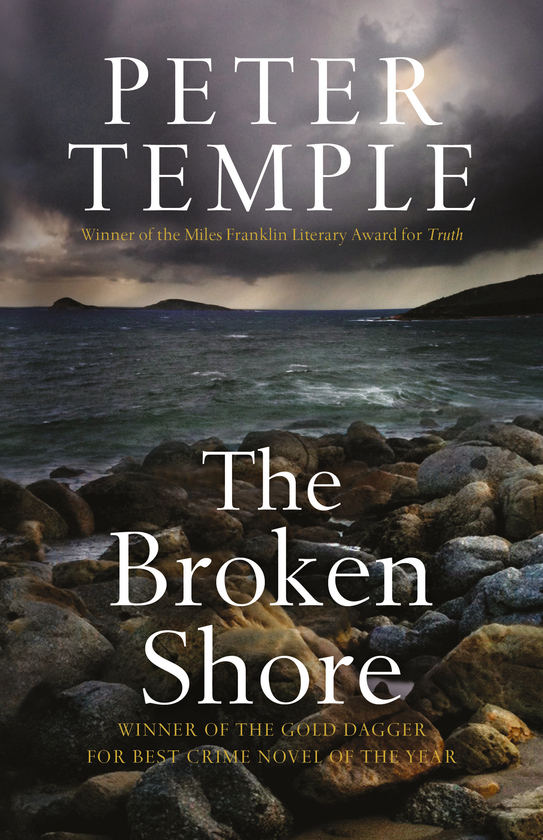 The Broken Shore by Peter Temple
A blistering example of contemporary Australian noir; razor-sharp, blackly bitter and brilliantly written. There's nothing new in what Temple's doing, but he crafts an emotional impact of savage intensity. The central character, Cashin, looks like the typical damaged detective, slowly committing psychological suicide in self-imposed exile, policing a rural parish while he recovers from the aftermath of a catastrophic homicide investigation which drove him from the big city.
A brutal attack on an elderly bigwig unleashes racial hatred, violence and corruption both in the police and the community, and Cashin's conscience won't allow him the slink away from this fight. Using knife-edge dialogue and stark description, Temple delivers a taut thriller that's saturated in the tension and aggression of roughneck Aussie reality.
Find it at Amazon
When You Run With Wolves by Robb White

An action-packed, sweat-soaked, robbery-gone-wrong which makes for a damn fine white-knuckle ride. Author Robert White plunges you straight into the deep end, hip-high in blunt force trauma, kidney-pulverising punishment, and the kind of involuntary amputations that'd make Quentin Tarantino wince.
Far more than a straightforward robbery romp, Wolves is a cleverly constructed character piece which puts its protagonist through ten types of trauma as he tries to secure the loot and stay one step ahead of his pursuers. The story slices back and forth through its own timeline in a zigzag narrative of manic pandemonium. Stylish writing, a cut above conventional pulp fiction, makes this edge-of-the-seat stuff indeed.
Find it at Amazon
The Spring Of Kasper Meier by Ben Fergusson
Fans of Alan Furst and Philip Kerr should be delighted to discover another writer exploring the dramatic potential of 1940's war-torn Europe. Fergusson swerves the obvious Nazi era and instead sets his mystery in a lawless post-war Berlin, the city in tatters after the rapes and rampage of the Eastern armies. Berlin's browbeaten population endure occupation and intimidation, with black market traders like Kasper Meier making life barely tolerable.
He may be excellent at locating missing people and revealing secrets – but Kasper has his own skeletons tucked away. These make him acutely vulnerable to blackmail and coercion, which begins with a young woman seeking a British pilot. He's soon struggling to escape a lethal intrigue in this atmospheric and evocative examination of moral ambiguity.
Find it at Amazon
The Whisperer by Karin Fossum

You can rely on Karin Fossum to never write a normal crime novel. And this is a very long way from being normal, even for a genre as diverse and unconventional as Scandi crime. The Whisperer does feature Fossum's long-standing investigator, Inspector Sejer, but that's about the only thing this story has in common with a typical police procedural. It's not so much about the anatomy of a crime but an exploration of the psychopathy of a criminal – and what a sadly bedraggled, fragile and fragmented character she is.
The narrator is extremely unreliable but her perspective is pitifully convincing. It's a magnificent construction of urban isolation; of melancholic paranoia, of abandonment and insecurity. Slow burn? Definitely. Page-turning thrill-a-minute? Definitely not.
Original, unpredictable and completely convincing.
Find it at Amazon
—–
Looking for more literary crime fiction?

Find A LAST ACT OF CHARITY at Amazon